Whether you are a first-time attendee or a seasoned Summit pro, these tips and visuals will help make the most of your trip. There's so much content, so many attractions, and more attendees than ever, so, it can feel a little overwhelming. I've found that being prepared helps take a bit of the edge off.
Summit At-a-Glance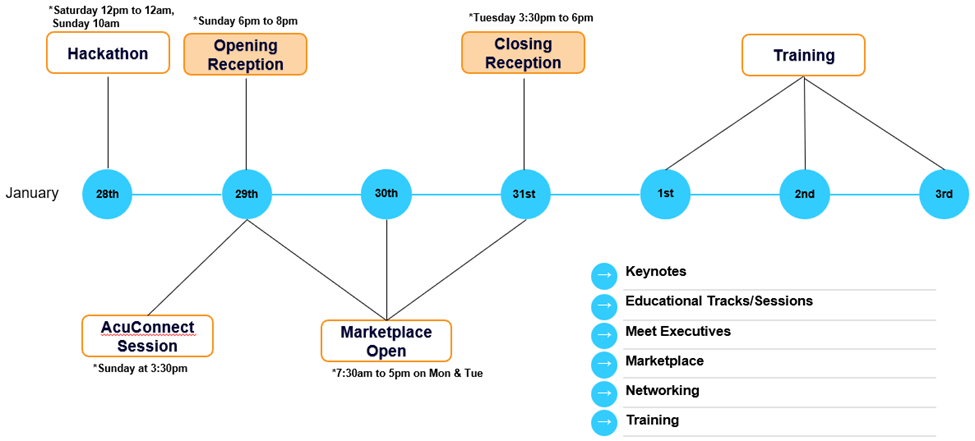 Tip #1:  Download the app. There's a new version, so you won't find it on the old cvent link. 😊
Sign up for all sessions that look interesting. Even if you double-book yourself, because you can't get in a session room unless you're registered.
Peruse the attendees and exhibitor tabs and scope out who you'd like to connect with in advance.
Familiarize yourself with the overall layout and key spots to make quick work of transitioning between sessions, meetings, and meals.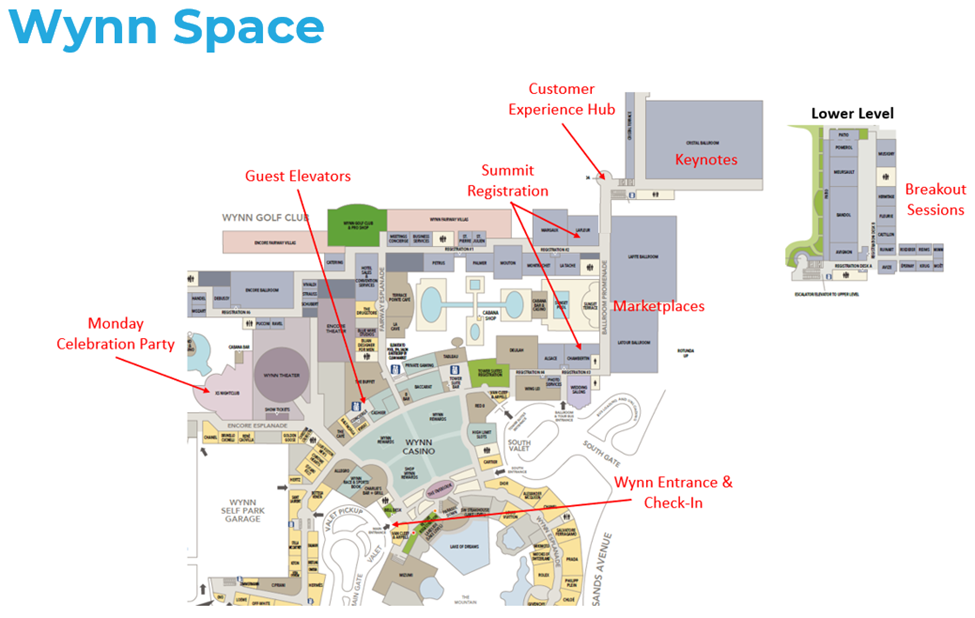 Tip #2:  Attend the Women in Tech sessions (men are welcome).
Truly inspirational speakers and a vibe that will energize you.
Tip #3:  Update your LinkedIn profile now.
Snap photos during keynotes and post your thoughts to boost your social cred and followers for your brand. Like, comment and share other's posts. It's the single best opportunity to get a lot of traction with a tiny bit of effort.

Tip #4:  If you're attending the Summit Celebration Monday night, bring your BADGE and your ID.
It's a nightclub and you won't be able to get in without those two items. It's a long walk back to the room to fetch them.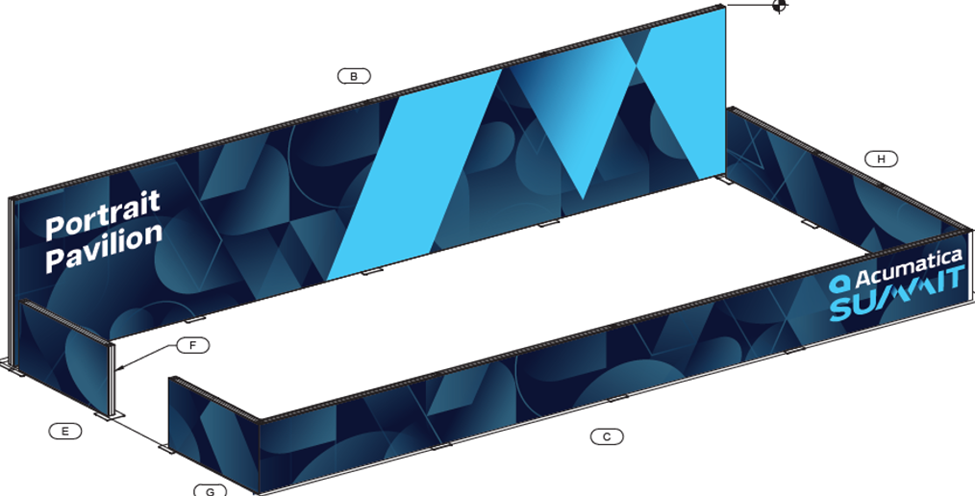 Tip #5:  Get a new head shot!
Hair and makeup services included. Head over to the Headshot Pavilion (see image) to get it done. No appointments, first-come, first-serve.
Summit Exhibit Space (additional Marketplace added this year)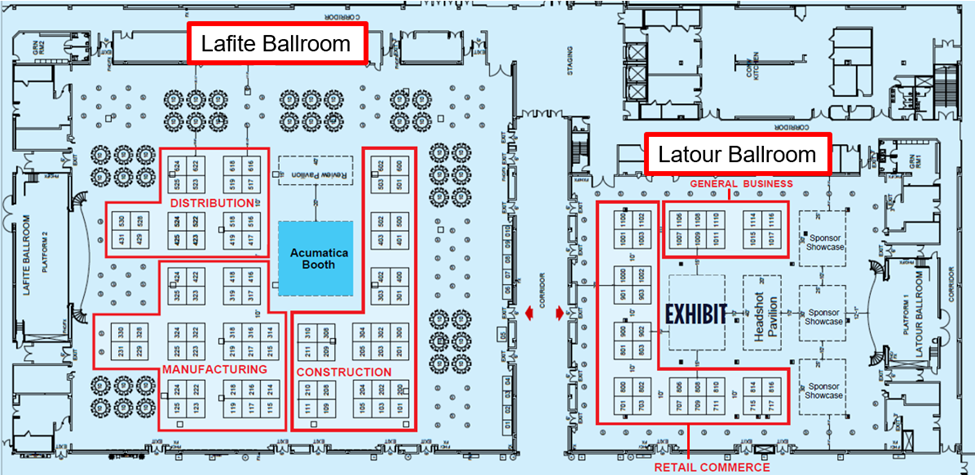 Tip #6:  Don't forget to sign up for the Solution Showcases.
You'll get an in-depth look at key solutions, and the opportunity to get all your questions answered.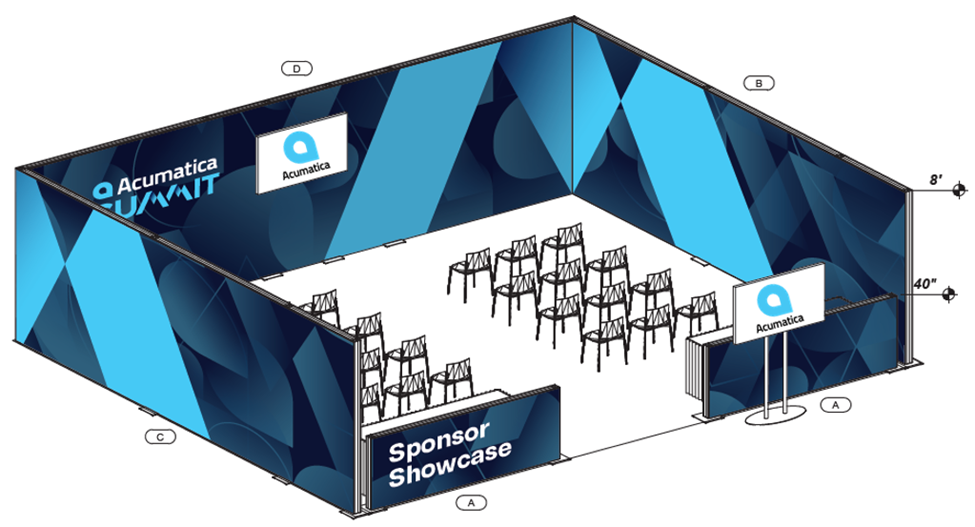 Tip #7:  Need a break from all the heady content?
Steer yourself to the NASCAR Exhibit and see if you'd make the pit crew, change a tire while being timed, or showcase your driving skills in the race simulator.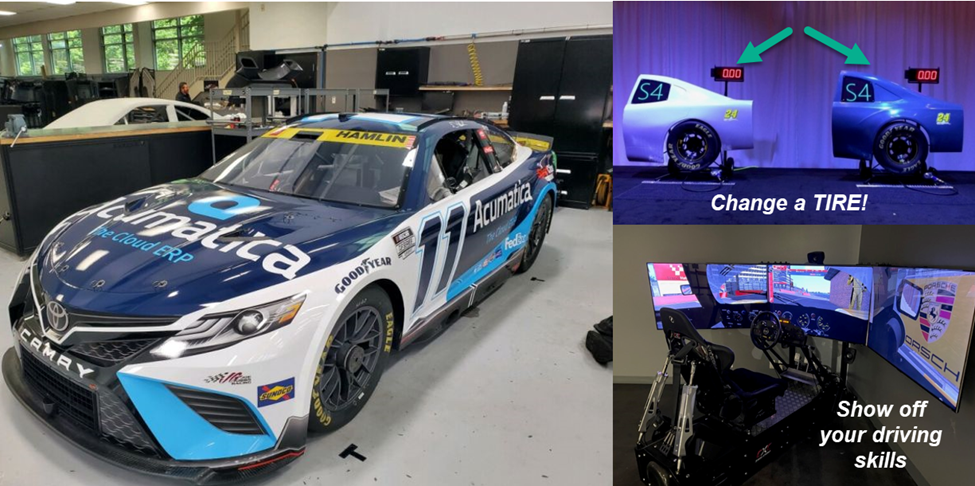 Tip #8:  Plan ahead for Acumatica Summit 2024.
If you're an ISV, and plan to exhibit in 2024, take advantage of discounted sponsor rates if you book your booth at THIS Summit. Find Sergey Cherynak at the Summit booth Monday and Tuesday between 12pm and 3pm to discuss.
Tip #9:  Don't forget comfortable shoes and business cards.
There is a lot of walking so don't forget to wear comfortable shoes. Also, don't forget business cards, pack some snacks for long days, and enter to win prizes at booths. Gotta have a little fun while in Vegas, right? There are some really nice offers this year…including my favorite from Velixo, a Kate Spade handbag.

Tip #10:  Take advantage of all of the networking opportunities
Leverage the Closing Reception to network with other attendees, your clients, and Acumatica staff. It's 2-1/2 hours of beverages, appetizers, and opportunity to digest what you've heard for the last few days.
BONUS Tip: If you're arriving early enough on Sunday, attend the Acu-connect session at 3:30pm in Margaux 1 & 2 (right next to registration) for a lively session that includes Tim Rodman, his guitar, and an ode to Acumatica.
Amber and I will be at Summit, and we'd love to say hello and catch up. Ping us on the app and let us know where to find you!